My first read of 2018 (I read
The Uncommon Reader
and
Cardcaptor Sakura
just before Christmas but was on blog break so here they are now)! Though, I did start this on Christmas Eve, I finished it last week so am classing it as a 2018 read!
And I got this for Secret Santa via
Shannon Bookworm's blog
. My Secret Santa was Virginie at
Chouett
, who got
Hogfather
,
The Book Thief
by Markus Zusak (a book I keep wanting to read and I buy/get given but am always too intimadated to read so never have. THIS YEAR, DEAR READER, THAT WILL CHANGE!) and
The Fifth Season
by N.K. Jemisin (a book I only found out late last year after it was announced to be a TV show for TNT and am super excited to read. This feels like a Februray/March read and I am trying to figure out how can get Virginie to buddy-read this with me... I sense I am going to adore this strange little book...). So, Virginie, thank you. As soon as I saw I had
Hogfather
, I knew I was going to read this over Christmas - even though it screwed up my Christmas reading plans...!
It's a silent night, Hogswatch night. Too quiet... The Hogfather is gone. He's not coming down the chimney, delivering presents to children. No, instead Death is coming down the chimney, wearing a fake beard, having a pillow stuffed up his borrow red outfit and saying HO HO HO in his monotone way. On Discworld, superstition makes things work, and when this is undermined, there are Consequences. But where does Death's adopted granddaughter, governess Susan, fit into all of this? And if she can't fix it, the sun won't rise...
You better watch out and you better not cry...
I have been wanting to read
Hogfather
for years. Ever since I was a teenager and saw the cover of Death wearing a Father Christmas outfit! But I have always been intimidated by Discworld and Terry Pratchett and it has been only in the past few years (I only read
Mort
and
Reaper Man
back in 2015 and I have dipped in and out of Terry's other writings over past few years when I feel brave). Now, at the time of reading them, I was very mixed on my feelings on
Mort
but I loved
Reaper Man.
So, where does
Hogfather
fit?
Right in the middle, though leaning more towards
Reaper Man
than
Mort
. I had such a wonderful, fun time with
Hogfather
. I didn't truly love it, but it was fun - and my reading this year is focused on fun. There were several moments I actually snorted out loud, scaring my cat (the first time this happened, it caught me so off guard I had to explain my howl of laughter to my partner "The Grim Reaper owns cats!") and I liked the ideas behind this - why do we believe in fairy tales when we are children? Why do we believe in monsters under the beds and bogey men and tooth fairies?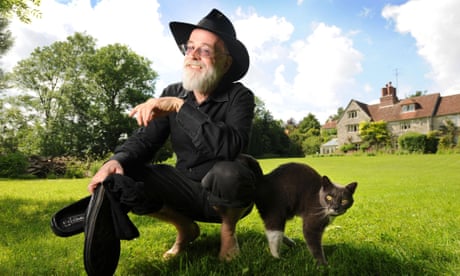 Plus, Death is an awesome character. In all three Discworld books I have read (all within the "Death Series"), he has always come out as my favourite character. Though I loved Susan and her no nonsense attitude. I know her teenage self is one of the lead characters in another Discworld novel,
Soul Music
, which I might read when I have got my TBR under control.
I do have issues with this book. Pacing at the start is my biggest problem, but this is a me thing more than anything else. It was a bit slow, but that's because it was setting everything up. Once it was set up, the book moved! But I can't figure out if it was slow because it was slow or because I had such expectations over this book (again, wanting to read this since I was a teenager!) that the start didn't live up to the bar I had in my head (hence why I have held off read Angie Thomas's
The Hate U Give
and Philip Pullman's
La Belle Sauvage
).
But, I enjoyed myself reading
Hogfather
. So much so that I have two more Discworld novels on my TBR that I hope to read sometime this year -
The Wee Free Men
(that I discovered I had on my kindle for over a year without me knowing about!) and
Witches Aboard
(which I bought with a ton of other adult fantasy books the Friday before New Year's Eve) - so buckle up, everyone. You might be seeing more Discworld on my blog/social media outlets this year...