Title And Author: Mary Poppins by P.L. Travers
Publisher: HarperCollins
Physical, eBook or Audiobook: eBook
Bought, Borrowed or Gifted: Borrowed from Prime Reading
Length: 228 Pages
As I said in my previous post, I struggled then DNFed North Child. And because of that, it threw my reading plans out of the window. I wanted to read the Believathon group book, Frostheart by Jamie Littler. I then wanted to read my advance reader copy of Elizabeth and Katherine Corr's Throne of Swans. I was so excited to read them. But after DNFing North Child, I decided that I didn't want to go near these titles just yet. I wanted one or two titles, a bit left-field choices, for me to read. Something I can read fast and something I can switch my brain off too. One of these choices was the new James Patterson 19th Christmas. But the other was going to be something I can read FAST as Nanowrimo is still going on and I know that I'm not going to hit the 50,000 word as I've written my conclusion and am now tying up loose ends and thinking "I kinda want to write a sequel. I want to know what happens next to these characters."
So, when I remembered that I can "borrow" books from Amazon's Prime Reading, I thought I would have a look at titles that I borrow and to check my memory. And I saw I could request the original Mary Poppins. So, borrowed that and started to read, deciding that this could be my last Believathon read...
We all know Mary Poppins. Disney used the original stories as inspiration for the movie, starring Julie Andrews, and we all know that PL Travers disliked the Disney adaptation so much that she demanded that no one who worked directly with the original to be involved in the sequel (hence why it took so long for Mary Poppins Returns to be made, even though both Disney and PL Travers both wanted a sequel to be made).
So, Mary Poppins. The Bank family are desperate. Their nanny has worked out. Who will look after the four Banks children: Jane, Michael and the twins? Then, the mysterious Mary Poppins appears, as if blown in on the wind. Firm but fair, Mary Poppins brings magic into the children's lives. But she will only stay till the wind changes…
This is such a strange read. Not because it's a strange book, but because of the Julie Andrews's movie.
We've gone up with Mary Poppins. Hell, we had a sequel (which I have but am a bit chicken to watch. Might watch soon after reading this!), so we think we know Mary. Yes, the movie does make changes (the Twins don't exist in the original movie, the subplot about Mr Banks and the bank only exist in the movie as does Mrs Banks being a suffrage), but the biggest thing you notice is how different Mary is. In the book, she's vain, a bit prickly and a tad firmer. But in the movie (the original, not sure about the new sequel, though I have heard that they do make Mary a tad vainer and more spiky), all these elements are watered down. They're there, but you have to look for them.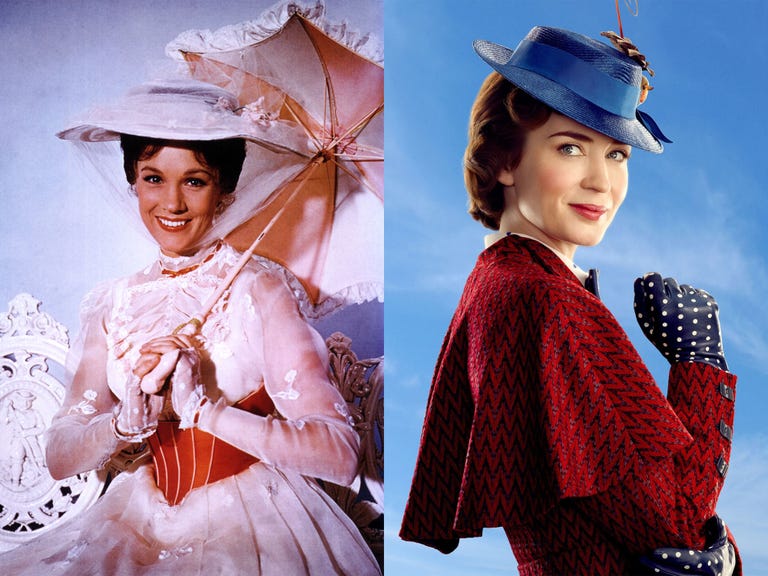 But I did like this. I didn't love it (but I suspected that it was going to be hard to love this as wrong age group and grew up with movie!) but I see elements and went "This is fun!". Each chapter was a different adventure with Mary Poppins and the Banks family. And this, in a way, can be seen as a problem to some readers so each chapter is self-contained. There's no overarching plot. Mary comes, insert adventures here, Mary leaves. In the movie, all this happens, but there is a plot to tie everything together. You get why Mary Poppins has come and why the family are desperate for her help…
Which leads me to wonder if I want to read sequels, Mary Poppins Comes Back, Mary Poppins Open the Door and a collection of short stories, Mary Poppins In the Park? And I am tempted. I'm going to rush out and get the whole series, but I do think I find them for cheap or at my local library, I might be tempted to give them a go. But I wonder if I enjoy this because of the movie.
Now, to try and discover the books that inspired the Disney movies Bedknobs and Broomsticks (one of my fave Disney live-actions) and The Black Cauldron…