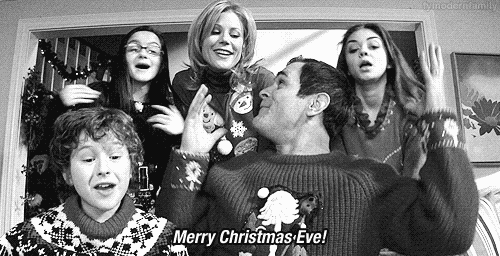 When in doubt on how to start a blog post, use a gif. Hence why I used a Friends gif yesterday, a Modern Family gif now and goodness knows what gif I'll use to end this post! Shall we go and find out?
*scrolls down* ... oh. Really, Andrew? Letting the side down, aren't you? I mean, this is the final post of the year - oh, you guys didn't know that? Ooops.
Yeah, sorry to throw this at you. But this is my final post of the year, so I can enjoy the holiday season the only way I can...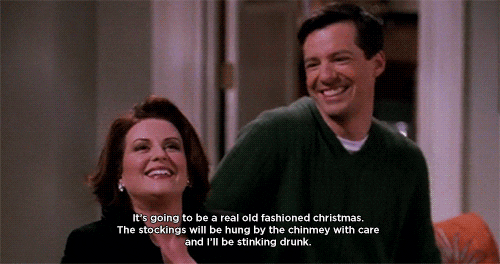 Ok, if you know me at all, you know I won't get stinking drunk. In fact, when I do have an alcohollic drink, most of my family/friends/partner look at me in shock. "You're drinking? Are you ill?! What's wrong?!"
But after the year we've all had, I think we're allowed to let loose for a day or two. Within reason. I mean, 2016... wow, 2016. A year most of us will want to forget. Brexit, Trump, all the people we love/admire/respect dying. Yeah... 2016 wasn't a happy year. So, we will be running into 2017 and, when we do, we'll turn to 2016 and either give it a rude gesture or
How many of you, I wonder, saw this gif and went either "CURSE YOU, PERRY THE PLATYPUS!!!" or sung "Doofenshmirtz Evil Incorperated"? (That's the only reason this gif is in here. A tiny, tiny bit of humour!)
But, honestly, we'll be walking into 2017, hoping that this new year will be better than the last! We'll be staring at it, waiting for the moment it begins to look like it's going to misbehave so we can either do this...
... or this...
Well, this blog post isn't going the direction I was hoping for. So much for fun and light.
So, this year was difficult, but we've made it. And hopefully 2017 will be easy on us (it better!!!). And reading was fun this year. A mixed bag as well and finally, I seem to have discovered that I can be ruthless on my reading (at last! Am practicing what I say!)
And, hopefully, the new year will be the same. I will be reading and listening to stories that will excite me and I will fall in love with. So much so, I will turn to you guys and go "GUYS! GUYSGUYSGUYS!!! YOU HAVE TO READ THIS!!! IT'S SO COOL!!!"
And, hopefully, I will be more proactive on future blog posts. Hopefully, it will be a mixed bag of stuff I hope you guys will like to read.
Now, am going to sign off now. Have been rambling. But, before I do, I want to thank you all. To all the publishers, all the authors, all the PR people, to you readers, to my fellow bloggers/vloggers/podcasters... I want to thank you all for making this year so much fun blog wise. It has been a struggle and there have been a few times I have gone "Should this be the end I wrap this up?"
But am having far too much fun now! AM BACK IN MY GROOVE!!!
To my family, friends, fiancee - thank you for putting up with me. I love you all.
So, I should wish you all a very merry Christmas or whatever festive holiday you keep and I shall see you in the new year (I am thinking either Thursday 5th or Tuesday 10th so mark those dates in your calendar!).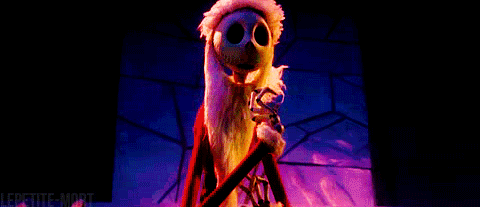 Ok, that's a bit of a scary gif to leave you on. Ok, let's leave this post on here. See you in the New Year!