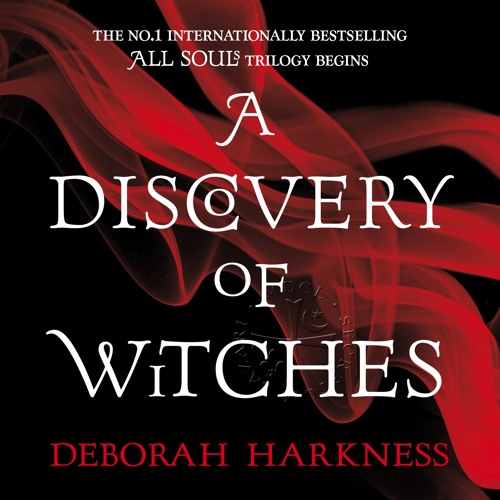 I listened to this audiobooks years ago (I just checked.
It was back in 2011
when I was only just getting the hang on this book blogging - and probably when I was better at reviewing a story), and for a while, I've been wondering if I should relisten to this story again for the past few months.
It's mainly because of the news that this book and the rest of the trilogy is being turned into a TV series that will be aired on Sky One (late 2018, I think but don't hold me to that) that made me go "Ok, I want to return to this world".
Ok, let me go back to the beginning. The story follows Diana Bishop, a witch who is trying hard not to be a witch. When she was in an Oxford library, she is given a manuscript which has magic within its pages. But she has no idea how important this manuscript is. If she had, she wouldn't have returned it.
But she did and now, every witch, vampire and demon is watching her, waiting for her recall the manuscript in question. One of which is Matthew Clairmont, a vampire who has been looking for the manuscript for over a century. But as two begin to work together, they are breaking rules about how creatures such as witches and vampires intermix. And if they are not careful, they're are going to find themselves falling into something worst than danger: they could fall in love...
So, how do I feel about returning to this world? It surprised me a little as, while I did enjoy it the first time round, I think I enjoyed this story a little bit more. I still have problems with this (which I am coming to in a moment) but there was something about the story and writing I enjoyed. It felt oddly rich in mythology and in story-telling and I liked this. Maybe I am more "grown up" enough to enjoy this series.
I think the problems I have with the audiobook originally are still there. The length is a problem. Mainly because, as time, it felt oddly too much. There was so much detail that weren't need or necessary, and it slowed the story down. Also, there were moments with one or two characters that I went "I don't like this character trait". Matthew is a good example. I fully get why he is the way he is - because he's a vampire and his history - but there were times I went "Even though you warned Diana and the readers about this trait, I don't like it. I don't warm to this" and because of that, I questioned Diana's relationship with him.
Another thing is one or two things felt very convenient. I was more aware of this near the end of my listening. Mainly because I listened to the last few chapters back to back (over two hour-ish binge). But I did go "Oh" over it.
But, with that all said, I am more intrigued to carry the series on. I might not rush out to get second book, but I might make plans to get my hands on a copy in 2018.