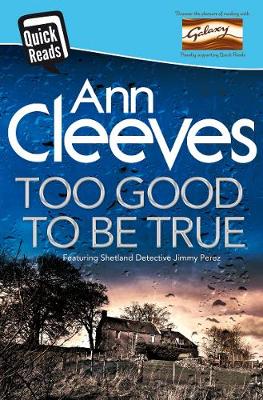 In a few days's time, it will be World Book Day here in the UK. So, to celebrate, the next few reads will be short reads that will be published for either this year's World Book Day or as part of the Quick Reads range for this year.
So, let's start with one story from the Quick Reads 2016 range: Ann Cleeves's
To Good To Be True.
When Detective Inspector Jimmy Perez visits the small Scottish town of Stonebridge after getting a call from his ex-wife, he didn't imagine that Sarah would ask him for his help. Sarah asks Perez to look into a recent suicide of Anna Blackwell. The gossip running wild round the small town is that Sarah's new GP husband, Tom, was having an affair with Anna and it's his fault that she killed herself.
But that doesn't make sense. Anna is a single mother who loved kids - she was a teacher at the local school. Why kill herself when no one could look after her daughter? And she seemed to be happier in the recent few weeks. To Perez, this doesn't suggest a suicide. This suggests murder...
I have never read Ann Cleeves before and when I saw this on my kindle for 59p, I couldn't resist. And I am really pleased that I did as I enjoyed myself while reading this.
While this is a quick read, I enjoyed the story and I liked the main character, Jimmy Perez. There's not much I can say without spoiling it due to the story's length, but I like this. It's been a while since I read something with a crime element and I forgot how much I enjoy reading this genre.
If you are a fan of Ann Cleeves's
Shetland
series, this might fall a bit short as this is a novella and takes place over a very short period of time - 2 days. But for someone who only has just discovered the series (aka myself), this is a good introduction and I plan to read another book by Ann Cleeves (Twitter suggests I read the first book in the
Shetland
series,
Raven Black
, so I will trying that) in the near future...