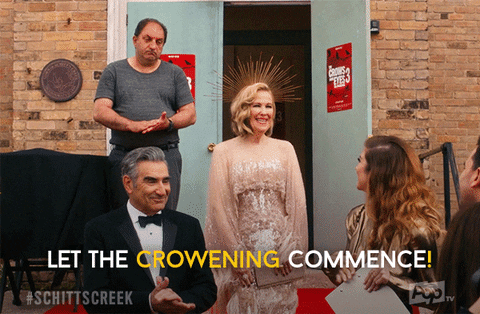 This is very unlike me, I know, to chat about book subscription book, but when I heard about this via a lovely email from the gang at Parrot Street Book Club, I was intrigued. Plus, this sounds cool (yes, I know there are a ton of book subscriptions boxes), hence the short little post with
Schitt's Creek
gif about
The Crows Have Eyes 3: The Crowening
(if not now, when?) about Parrot Street Book Club's newest feather to the flock.
Macaws is Parrot Street Book Club's newest book subscription service, aimed towards readers between the ages of 12 and 14, offering books that feel more grown up from middle grade reading, but doesn't veer too far into the edgier side of angst, relationships and peer pressure found in older YA. So, hopefully, a nice stepping stone for young readers stepping into secondary school.
Now, according to my reading (I know there will be a press release coming out today. You can read moire on their socials or on their website,
parrotstreet.com
), Macaws will be a little different from its other subscription boxes for younger readers, Cockatoos. While readers still get a book-club style questions, activity ideas, access to an online Clubhouse and a note from the author, readers have the option to choose between two books to reflect their growing independence (this is the thing that got my attention). They can pick one or both or keep the element of surprise.
Now, I have been very kindly gifted one of the two books in the first Macaw delivery and I have NEVER heard of this book and would never go towards it, but I hope to read it sometime this month as I love surprise, unknown to me reads. So, thank you Parrot Street and I shall chat about it soon...
Now, before I leave you, if you want to know what made Parrot Street decide to create Macaws,
you can read all about on their blog
. Now, it would be wrong of me not do end this post with one more
Schitt's Creek
gif, right...