Title And Author: The Ballad of Songbirds and Snakes by Suzanne Collins
Publisher: Scholastic
Physical, eBook or Audiobook: Physical
Bought, Borrowed or Gifted: Bought
Length: 528 Pages

Ok, let's address the elephant in the room. The world at the moment is awful. There's no other word for it. It's awful. And I thought long and hard over whether to continue posting on the Pewter Wolf or not over the next few weeks. I decided, in the end, that I am going to continue posting for a little while (I am going to take a small break later in the moment due to work and my mental health), but I wanted to say that this blog is my safe space and I want to keep it being a safe place for you, dear reader. I will one or two things the next few weeks and you will notice a shift on what I read and how I educate and entertain myself. But please bear with me. I will try and be/do better.


So... the long awaited prequel to The Hunger Games trilogy! And it's a chunky beast. And it had a bit of a journey to its worldwide release - we were told it was a prequel, following an eighteen President Snow becoming a mentor for the 10th Hunger Games and happening in the middle of the COVID-19 and other things (can we just cancel 2020?) - but we're here now. And this book is getting some very mixed reactions.
Now, before we go further, the book. On the morning of the Reaping for the tenth Hunger Games, young Coriolanus Snow is preparing for his one shot of fame and glory as a new mentor of this Hunger Games. The name and respect for the Snow has fallen on hard times and he thinks this will save himself and his family.
But when he is told he will mentor the female tribute from District 12, he feels humiliated and starts trying to figure out his next move. For someone desperate to survive, how far will he follow the rules for?
So… I've been thinking about my thoughts on this book since I finished reading it and… I don't understand why this book was written.
That might sound harsh, but here is my issue. Whenever a prequel/sequel/companion novel or something extra is added, I like to think it will add something new to the previous series. And on most cases, they do. Though they are expectations to this rule, for the most part, you want something extra or new.
But this… I don't understand why this was written. And, it's hard to enjoy this book when, for the first two thirds of the book, it was such a slog to read! It was such hard work. I considered DNFing this book so many times. The pacing of Ballad is nothing like the pacing in The Hunger Games trilogy. Even Mockingjay, which is more slower in pace (in my opinion), was faster than Ballad.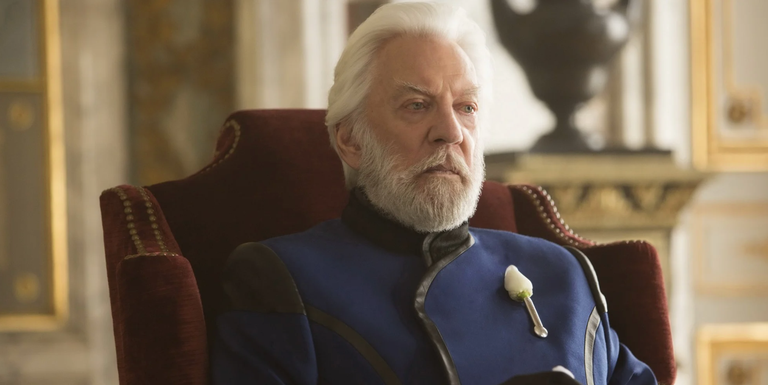 Plus, I didn't care. I just did not care! This book is too long, too dense and feels unnecessary. Plus, ok, I don't have to love the lead in a book, but I need a connection or something that makes me want to read this character. And I did not care for Snow, at all. I found 18 year old Snow a little dull. And, in The Hunger Games trilogy, we know Snow has an interesting and complex history becoming President and being President, killing enemies and allies, pushing attractive tributes into sex work and being utterly ruthless and suffering no guilt over it. And, barring one moment, we didn't see that. I want to know why Snow is Snow, but I found this eighteen year old Snow bland.
I think the problem here is that this prequel adds nothing to the trilogy. You can easily read the trilogy and not need to read this. If this was a prequel from Snow later in life or from other character's POV (Haymitch, Finnick, Johanna or Tigris, Snow's cousin), we might have learnt more about him. A good example of this is Tigris. We discover in Ballad is that she is Snow's cousin and they have a close relationship, but in Mockingjay, Tigris and she is deemed "too altered" by the Capitol (Snow himself?) and that she "purred" when Katniss mentioned she planned on killing him. Now that is an avenue that I would have loved to explore.
But we didn't get that. We got this and… it adds nothing to the trilogy. I know that this book is causing a real split with readers - some love it, some hate it, some question its existence - but this isn't essential reading for this trilogy. If Suzanne Collins wants to write another prequel about another character later in the Hunger Games timeline, I would read that with great caution. But I found this an unnecessary slog of a read and I am fairly certain that if/when I do reread the trilogy, I will give Ballad a hard pass, though I am intrigued to see what Lionsgate is going to do with this as we know Ballad will be turned into a movie.