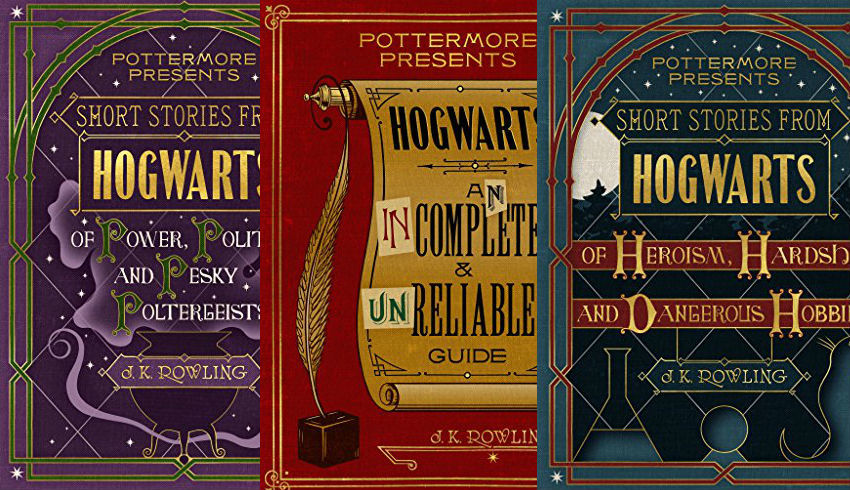 Am going to be cheeky and do my write-up of all three Pottermore Presents range. That's - hang on, long titles alert! -
Short Stories from Hogwarts about Heroism, Hardship and Dangerous Hobbies, Short Stories from Hogwarts about Power, Politics and Pesky Poltergeists
and
Hogwarts: An Incomplete and Unreliable Guide
.
Mouthful, huh?
Each of these contain short chapters touching on different subjects relating to each collection. Within Heroism, Hardship and Dangerous Hobbies, there are chapters talking about Professor McGonagall and Professor Lupin. In Power, Politics and Pesky Poltergeists, there are chapters talking about Professor Umbridge, Professor Slughorn and Azkaban. And in Hogwarts: An Incomplete and Unreliable Guide, there are chapters about the Hogwarts Express and Hufflepuff Common Room. And these are to name a few.
This is very much for Harry Potter fans. And it's very interesting as someone who doesn't check out Pottermore every day (and I call myself a Harry Potter fan!), it's nice to read these information and get more background information on characters and places I wanted to know more about.
Out of the three, I loved Short Stories from Hogwarts about Heroism, Hardship and Dangerous Hobbies. I loved how this collection talked about McGonagall, Lupin, Trelawney and the myserteous Kettleburn (who we heard but never seen). This was the one I think most fans will enjoy reading the most. I did enjoy Power, Politics and Pesky Poltergeists as the idea of power and politics and how they can corrupt is one of the main themes within the Harry Potter series.
There are problems with these collections. As some fans have pointed about, these have been released on Pottermore for a short time (you can't find them now as Pottermore, I feel, isn't exactly searcher friendly) and they question why you should pay these information if it was released for free. Possible milking the cash-cow? Possible damage control over fans reaction to
Harry Potter and the Cursed Child: Special Rehearsal Edition Script
(
my review to the book is here
and my review to the actual play... one day... maybe... [And I have two spoiler-filled discussions about
Cursed Child,
which you can read
here
and
here
... remember! Spoilers!])
Also, these collection are only available as eBooks, and there is no plans to release them as physical books. Some readers don't like using eReaders, so why isn't it available as physical? Is this because there are plans to release the long rumoured (and long wished for) Harry Potter Encyclopedia...
These collections really do depend on the reader. Some readers will love these and will hope for more, while others might be disappointed and would want to avoid. But either way, it's interesting for me to read this information and take from it what I will.