I'm not sure how this got on my radar. I want to say Twitter, but I think I might have got an email from the publisher's publicity department, saying "Vote for this upcoming release's cover!" and I am a sucker for a mystery poll for a new series. And this is a cosy murder mystery series so, of course, this is right up my street, people!
Although, this wasn't what I was expecting for a cosy mystery. But more on that later...
Title and Author: A Murder of Crows by Sarah Yarwood-Lovett
Publisher: Embla Books
Bought, Borrowed or Gifted: eProof gifted by UK publisher via NetGalley in exchange for an honest review/reaction, though listened to audiobook via library audiobook app.
Dr Neil Ward is an ecologist, not a detective. So when she took on a job for a local Manor House in Cookingdeal, this thinks it will be an easy open-and-shut to discover the building's wildlife. When she discovers a hidden tunnel, perfect for bats, she thinks she overhears something. It's not till a day or two later that she realises that she heard the home owner being murdered...
Desperate to help, she shows all her findings to the Police. But this has the opposite effect as the Police turn their sights on Neil being the prime suspect. Trying to clear her name, Neil and her colleague Adam decide to look into the murder. But that might be easier said than done...
Now, I said earlier that this wasn't exactly what I was expecting from a cosy mystery. Mainly because there were times, I didn't think this fits the cosy crime genre. There were times I went "I haven't read this in the cosy before, and if I had, there's an element of lightness and humour to these situations." Plus, there are topics that are very lightly touched on and I went "Oh, that's heavy for a cosy."
But, let's be real here: cosy crime in general is a wide scope. Yes, it's a sub-genre of crime/thrillers but is a large sub-genre. You can go really light or quite dark, and yet still fit nearly in this sub-genre. I mean, Agatha Christie fits this genre to most people and yet, I can name several where the crimes are quite brutal.
Plus, this felt quite slow at the start. I think this was because I was audiobooking this from my local library and not reading the eProof. If I was reading this, I would have devoured this so much quicker, but because I was audiobooking this to and from work, I would lost the pace as soon as the story hit its stride.
So yeah, I didn't get what I was expecting, because I fell into the trap of thinking "Oh, it's a cosy. That means this is going to be a light and easy read."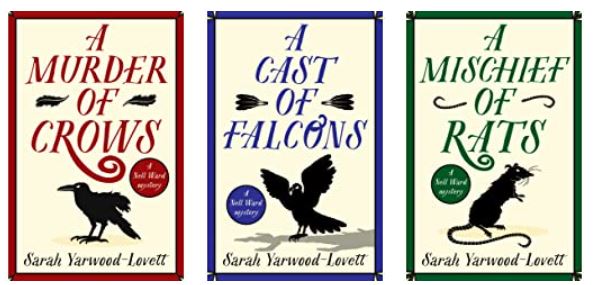 HOWEVER, once I got a good way into the book, I found my pacing and raced through it. This is a first in a series so, of course, this is more an introduction to the main characters: to Nell, Adam, James, Sylvia (who is awesome! I loved her so much!) and character building (hence the slowness at the same). We see character development (slow at the start, but things moved nicely around the 40% mark), a hint of a romance/love-triangle that will play very nicely into book two.
I don't think the link between this being for fans of Richard Osman, Joy Ellis and Faith Martin if I'm being completely honest with you. But, I do think this will fit more for fans of Midsommer Murders and Agatha
Raisin books more. And yes, I want to read book 2,
A Cast of Falcons
, when it comes out in October (I believe the third in the series,
A Mischief of Rats
, will be out in early 2023).