I am excited to have Kim Culbertson on The Pewter Wolf today! Kim is the author of
The Wonder of Us
, a summery read that I think some of you guys will devour by the pool or on the beach with a cocktail in your hand.
The Wonder of Us
follow two friends - Riya and Abby - two best friends who been friends ship preschool. But when Riya and her family move to Germany and Abby stays in California, their friendship comes under strain so when Riya proposes a two week, six country adventure to save their friendship, they both jump at it.
But they haven't spoken to each other in weeks and both girls are keep secrets. Can this holiday really save their friendship or does growing up really mean growing apart?
It feels like a fun read, and because it feels very summery, when Kirsten from Walker asked if I wanted to do something on the blog, I jumped out it. I need a bit more fun on this blog, me thinks.
And what I got back from Kirsten is this yummy post from Kim, chatting about summer reads, which I think some of you guys will love! So, before I hand it over to Kim, two small things. First, thank you Kim for writing this post - I know you must be busy but thank you! And thank you Kirsten for emailing me and me going "Did I email you about this? My memory is ruined!"
And if you want to find Kim online, check her at
kimculbertson.com
or on Twitter at
@kculberston
. Now, over to Kim to talk her summer reads!
Summer reading season is one of my favourite times of the year – dappled shade, pool sides, beaches. I try to start my "summer reading" as soon as I possibly can and carry it long into autumn. Here are five summer reads (a mix of both YA and adult) that I would tuck into my summer bag over and over.
The Geek's Guide to Unrequited Love
by Sarvenaz Tash
I am a sucker for anything geeky and big-hearted, especially if the geeks in question met over their mutual love for Harry Potter. Graham and Roxy have been geek friends for eight years but as the years grow, Graham realizes his feelings are a bit more than just friends. If he can get tickets to see their favourite comic artist at a local Comic Con, maybe things can move in a more romantic direction with Roxy. This book is sweet, funny, relatable and will leave you wanting to be Graham's best friend.
Sky in the Deep
by Adrienne Young
If a brutal, badass Viking warrior girl is your jam, Young's debut is not to be missed this summer. This violently beautiful book is epic – a hugely unique coming of age story in the hands of a first-rate YA storyteller.
Love, Life and the List
by Kasie West
All of Kasie's books feel like summer to me – so much sweetness and fun. In Love, Life and the List summer isn't going as planned for Abby. She has an unrequited crush on her best friend, her mom has anxiety, and her art was rejected because it had "no heart." This is a book about learning to take chances with our creativity, powered by the huge heart that is always at the centre of Kasie's books.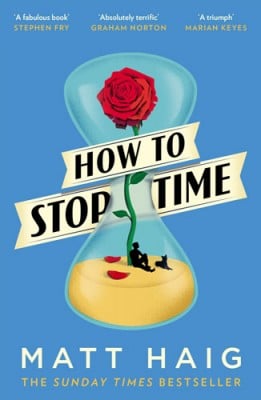 How to Stop Time
by Matt Haig
I first fell in love with Matt Haig's ability to craft quiet, literary stories housed in large, commercial concepts with his novel The Humans. In The Humans, Haig wrote about our human relationship to space (there is an alien at the centre of that novel who must come to earth and live as a human in order to save his own civilization). In How to Stop Time, he writes about our human relationship to time. The narrator, Tom, is a man who grows old slowly. He's not a vampire (nothing so dramatic), but he has a rare condition that causes him to live for hundreds of years, a condition that gets tiresome and, ultimately, excruciatingly lonely since he can't stay in one place for long without raising suspicion. Sometimes big concepts feel gimmicky, but Haig uses his as a metaphor to shape a poignant story highlighting the challenge (but also the gift) of living as a human being no matter what the time period.
Where'd You Go, Bernadette
by Maria Semple
Everyone knows about this book already, but it is one of those novels I revisit from time to time because it makes me laugh out loud. During summer, I always want a book that makes me laugh, especially in a wry, observational sort of way. I've spent 18 years as a high school teacher and my husband is a school director so Stemple's descriptions of the antics at Galer Street School won me over completely.
Two honorable mentions from my 13-year-old daughter:
My daughter Ana wants to give a summer shout out to Siobhan Curham's The Moonlight Dreamers and Tell It to the Moon. She LOVED these books, and found them to be warm-hearted stories that celebrate the power of female friendship (something dear to my heart, hence The Wonder of Us).
J