Title And Author: Starfell: Willow Moss and the Lost Day by Dominique Valente
Publisher: HarperCollins
Physical, eBook or Audiobook: Audiobook & eBook
Bought, Borrowed or Gifted: eProof Gifted by publisher via NetGalley in exchange for an honest review and Audiobook borrowed from local library via BorrowBox
Length: 288 Pages or 5 Hours 19 Minutes
I'm not exactly sure how this fell onto my radar, but I've known about this title since last year. It came out round the same time as the second book in the Nevermoor series (Another middle-grade series I really need to read as I've heard nothing but wonderful things about it!) by Jessica Townsend came out and people were mentioning the two quite closely, though Starfell feels more suited to younger readers compared to Nevermoor.
In Starfell, magic is slowly coming and Willow Moss, youngest in the Moss family of witches, has the least powerful gift of finding lost things. Like keys, glasses or wooden teeth. Useful, but not exactly exciting compared to her mother and her two older sisters…
So when the most powerful witch, Moreg Vaine, comes to Willow and ask for her help, Willow can't say no. For you see, last Tuesday has gone missing. Not from Moreg's memory but from everyone's. Last Tuesday has gone and, without it, the universe could unravel.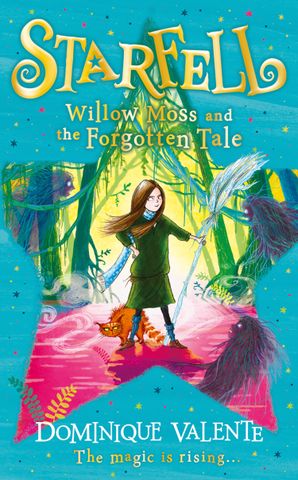 I found this utterly charming. Yes, it's a typical middle-grade fantasy and yes, most grown-up will go "I've read this before" but younger readers will devour this and will fall in love with Willow's friend, Oswin the kobold. He looks like a cat, but he's not (never call him a cat). He's the Monster from Under The Bed (Willow's), can talk and, when angry, can explode. He's a fabulous character, but I do have a thing for talking animals that look cat-like.
This book also has depth to it, but is subtle to younger readers. We have a band of people called the Brothers of Wol who believe magic is dangerous and witches and wizards should live somwhere else, and with the present political climate, you get a little kick in the gut over how this affects people. Because of the missing day, you get other subtle depths, left out like breadcrumbs, which comes hard at the reader towards the end.
As I audiobooked this from my library, I found the narrator, Tuppence Middleton, a joy to listen to. And, in the physical and ebook editions, you have stunning black and white illustrations by Sarah Warburton.
This is pure escapism and I loved it. Can't wait to see what happens next to Willow and her friends in Starfell: Willow Moss and the Forgotten Tale.