Surprise PICK MY NEXT NETGALLEY READ!!! (Pics of covers in next tweet to help you out!)

— Andrew Hall (@PewterWolf) August 27, 2017
After I binge-read
Doctor Jekyll and Mr Seek
(review for that not coming out just yet, I decided to ask Twitter what I should read. I wanted something fun, addictive and edge of your seat. You guys voted for this (though it was a very VERY close call. It changed in the last two minutes as it was a two-way tie!).
And I read. I kinda wanted to read this as soon as I heard of it. A nod to slasher-horror movies by an author who wrote
Anna And The French Kiss
. Ok, that's going to be an interesting fish-out-of-water read. So when you guys voted for it, I was surprised but was "Yes!" at it. It's outside my (and the author's) comfort zone and I wanted something fun and different.
And I read. I got to the first 15/18% into my NetGalley and I realised that this wasn't the book for me. And seeing that I don't like lie to hiding this from you guys (I want you to know that it's ok to go "Ok, this book isn't for me" or "You know, I am not in the mood for this now. Let me put it down and come back at a later date"), I better tell you why I'm leaving this.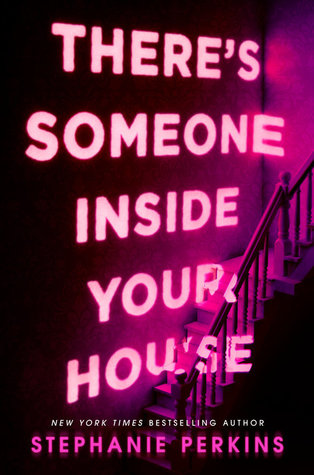 I just didn't click. I don't know if it's the voice or what was happening in tone but, when I started this, I thought it was going to be
Scream
or
I Know What You Did Last Summer
. I expected it to be tense. I might not be a horror fan, but I like a good psychological scare. But it didn't come across that way. The prologue felt like it fitted this, but it didn't go as far as I was expecting. In fact, we don't see anything. Hell, I'm not even sure we saw the character realise that something awful was about to happen. Then, the genre switches and it went romanic. I get why this switch happened - to build tense and to make us care for these characters - but it felt like a misstep.
The one thing I do like in this is diversity. That is the main thing I approve of, but this book feels like a misstep in advertising. It doesn't feel like a horror/slasher, like I was lead to believe, but a romantic with a serial killer edge.
Now, I am not saying this book is bad. I have read reviews where people have raved about this book. Loved it. But, it's just not for me at this moment in time. And that's ok. Just because I didn't click with it doesn't mean you won't either. You might read it and go "This is good. What was that Andrew guy talking about?!". If you like this, good for you. Read what makes you happy.
Am going to put this down and move on. I will return to this one day when I'm ready. But not yet. I want to blitz my NetGalley eProofs in next few weeks as I can focus on
Fate of the Tearling
,
Origin
and
The Book of Dust: La Belle Sauvage
at the end of September/throughout October...