Let's hit the ground running with a small Q&A type post (very rare for PW, I know.) with thriller writer, Sue Wallman.
In case you're not sure who Sue is (how?!), Sue is the bestselling author of four YA thrillers - Lying About Last Summer, See How They Lie, Your Turn To Die and Dead Popular - with her fifth title, I Know You Did It, coming out TOMORROW!!! All her titles are edge-of-your-seats away winners with her debut, Lying About Last Summer, was part of and won the Zoella Book Club 2016.
Now, I don't want to say too much about what I Know You Did It is about (Sue's going to explain in an elevator pitch below), but I am HUGELY grateful to Sue for saying "Yes" to my out-of-the-blue email, asking "Do you fancy being on my blog again?".
Oh, FYI! By the think you'll be reading this, Sue will have done a Crowdcast with her lovely editor from Scholastic, Linas, and I think (though I'm not sure so don't hold me to this) that you might be able to rewatch the event.
Go to crowdcast and see for yourselves.
Thank you so much for doing this. Before we go any further, please introduce yourself and give us some details over your latest novel, I Know You Did It?
Hello, I'm Sue Wallman, school librarian by day, author of YA thrillers by night. Thanks for having me on your blog. Here is a little blurb for
I Know You Did It
:
On the first day at her new school, Ruby finds a note on her locker saying "
I Know You Did It
" – she is terrified someone's found out she was responsible for the death of a little girl when they were both four. When one student is found dead, and then another, it looks as if Ruby is being framed by another killer. That, or she might be next…
I Know You Did It is your fifth thriller (Lying About Last Summer, See How They Lie, Your Turn To Die and Dead Popular). How was this compared to your other works?
It's very much the same genre with characters you can't be sure of, a claustrophobic setting – in this case a secondary school – twists and turns. I don't want to give away any spoilers but I had to be very careful in the plotting. I'm really pleased with the twist! Hope that doesn't sound too smug. It was my editor who suggested it to me, and it took some doing.
What's your favourite part about writing for teenagers?
I love talking to or hearing from readers. Teenagers have such an interesting outlook on the world, especially at the moment.
If I Know You Did It (or any of your other titles) got made into a movie or a TV show [EDIT: Yes please!], who would be your dream cast?
That's a really tricky question. For Ruby, my main character, an actress with the same feel to her as Emma Mackey who I loved in
Sex Education
, but Emma would be too old now. I'd say let's do an open casting and see what happens. I know a teenager who's just got a part in a Netflix series this way, and it doesn't get much more exciting than that.
When you're not writing, you work as a school librarian. What is your favourite part of this and do you use this as possible inspiration for your novels?
My favourite part of being a librarian is making a difference in some way – by getting a book into the hands of someone who absolutely loves it, opening a student's eyes to different possibilities through books, or providing a safe, interesting space. (And always having books to take home to read!)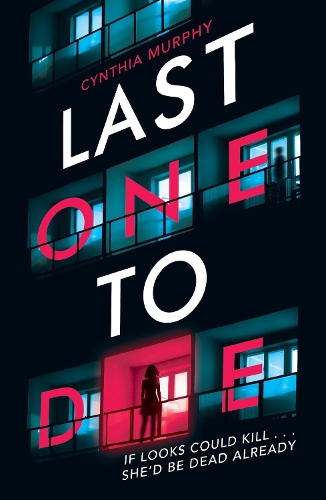 With current Waterstones Children's Laureate having written an open letter asking to ring-fence yearly investment to help build and maintain primary schools's libraries and as a school librarian yourself, how important are these safe spaces? (To watch Waterstones Children Laureate Cressida Cowell, please click here)
It is an absolute tragedy that it's not compulsory to have a library in every school. By not having a working library, schools lose important things – particularly to do with inclusion and identity – and a lot of people sadly have no clue what's been lost.
Last question: what is the last good crime/thriller/mystery you've read or watched that you would love to recommend?
I really enjoyed Cynthia Murphy's
Last One To Die
– I loved the characters and the creepy tension.